Search for (almost) any book
Shopping cart
There are no products in your shopping cart.
Items in the cart

0

Items

$0.00
Exit Interview: The Life and Death of My Ambitious Career (Hardcover)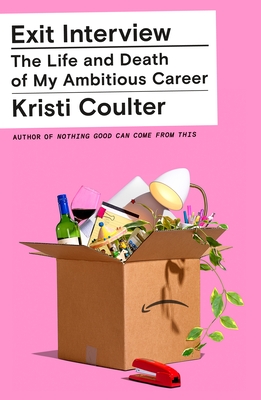 $29.00

Usually Ships in 3-7 Days
Description
---
A candid, intensely funny memoir of ambition, gender, and a grueling decade inside Amazon.com, from the author of Nothing Good Can Come from This.

"A unique and brilliant book." —Oliver Burkeman, author of Four Thousand Weeks

What would you sacrifice for your career? All your free time? Your sense of self-worth? Your sanity?

In 2006, Kristi Coulter left her cozy but dull job for a promising new position at the fast-growing Amazon.com, but she never expected the soul-crushing pressure that would come with it.

In no time she found the challenge and excitement she'd been craving—along with seven-day workweeks, lifeboat exercises, widespread burnout, and a culture driven largely by fear. But the chase, the visibility, and, let's face it, the stock options proved intoxicating, and so, for twelve years, she stayed—until she no longer recognized the face in the mirror or the mission she'd signed up for.

Unsparing, absurd, and wickedly funny, Exit Interview is a rare journey inside the crucible that is Amazon. It is an intimate, surprisingly relatable look at the work life of a driven woman in a world that loves the idea of female ambition but balks at the reality.
About the Author
---
Kristi Coulter is the author of Nothing Good Can Come from This, which was a finalist for the 2019 Washington State Book Award. She holds an MFA in creative writing from the University of Michigan. She is a former Ragdale Foundation resident and the recipient of a grant from the National Foundation for Advancement in the Arts. Her work has appeared in The Awl, Marie Claire, Vox, Quartz, and elsewhere. She lives in Seattle, Washington.
Praise For…
---
"A unique and brilliant book—both a hilarious memoir of one woman's journey through the extremes of corporate America and a poignant and arresting account of what modern work culture can do to the soul. I found myself reading passages aloud to anyone who'd listen."
—Oliver Burkeman, author of Four Thousand Weeks

"Anyone looking for the inside scoop on Amazon will be in luck. Maddening stories and details about the company are abundant . . . [and] by situating her experience in a larger feminist narrative, Coulter gives her story a more universal application."
—Leah Reich, The New York Times

"Enlightening and often wincingly funny. . . Books like Exit Interview provide a chance to look back and ask ourselves, What did we just do to our lives?"
—Laura Miller, Slate

"Coulter is a delightful, funny guide, giving us an insider's view of Amazon's quirks and toxicities, and she's alert to the personalities and characters around her (including glimpses of Jeff Bezos and his management style) . . . An engaging, well-paced, and thoughtful memoir, Exit Interview takes a cleareyed look at women in corporate America, particularly tech, noting how far from parity they remain in those worlds."
—Sarah McCraw Crow, BookPage (starred review)

"With wry humor, Coulter provides candid insights about life, love, and gender as well as surviving a toxic workplace."
—Kirkus

"Kristi Coulter has given us the most vivid account yet of Amazon's chaotic, mercurial, dignity-crushing office culture. Exit Interview is also a very funny and intensely personal depiction of what it's like to be female in the oppressively male world of technology."
—Brad Stone, author of The Everything Store and Amazon Unbound

"I couldn't put Exit Interview down, even when my heart rate was so elevated that my fitness ring thought I was going for a 'moderate walk.' A brilliant portrait of stifled ambition that should be required reading for every underfunded woman at every organization that 'values female employees' and has exactly one woman in their C-suite."
—Nora McInerny, author of Bad Vibes Only

"Kristi Coulter's unputdownable memoir about her time in the trenches of one of the world's most cutthroat companies—a place where femininity and feminism is positioned as something to grow out of—made me want to rage against the machine as a woman and a human."
—Courtney Maum, author of The Year of the Horses

"Exit Interview is pure joy from beginning to end. Kristi Coulter's voice is truly inimitable: vibrantly intelligent, tender, occasionally furious, and always funny. A brilliant and surprisingly moving tour of the outer reaches of corporate madness."
—Claire Dederer, author of Monsters

"Whether you're here for some juicy inside dirt on Amazon or an astute analysis of gender politics, Kristi Coulter's Exit Interview delivers the goods with wit, insight, and a deep dive into the heavy taxation on being an ambitious woman."
—Gina Frangello, author of Blow Your House Down