Search for (almost) any book
Shopping cart
There are no products in your shopping cart.
Items in the cart

0

Items

$0.00
Open Season (A Joe Pickett Novel #1) (Paperback)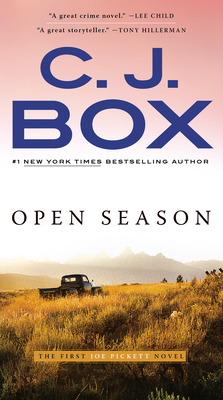 $9.99

Usually Ships in 3-7 Days
Other Books in Series
This is book number 1 in the A Joe Pickett Novel series.
Description
---
Don't miss the JOE PICKETT series—now streaming on Paramount+

The first novel in the thrilling series featuring Wyoming game warden Joe Pickett from #1 New York Times bestselling author C. J. Box.

Joe Pickett is the new game warden in Twelve Sleep, Wyoming, a town where nearly everyone hunts and the game warden—especially one like Joe who won't take bribes or look the other way—is far from popular. When he finds a local hunting outfitter dead, splayed out on the woodpile behind his state-owned home, he takes it personally. There had to be a reason that the outfitter, with whom he's had run-ins before, chose his backyard, his woodpile to die in. Even after the "outfitter murders," as they have been dubbed by the local press after the discovery of the two more bodies, are solved, Joe continues to investigate, uneasy with the easy explanation offered by the local police.

As Joe digs deeper into the murders, he soon discovers that the outfitter brought more than death to his backdoor: he brought Joe an endangered species, thought to be extinct, which is now living in his woodpile. But if word of the existence of this endangered species gets out, it will destroy any chance of InterWest, a multi-national natural gas company, building an oil pipeline that would bring the company billions of dollars across Wyoming, through the mountains and forests of Twelve Sleep. The closer Joe comes to the truth behind the outfitter murders, the endangered species and InterWest, the closer he comes to losing everything he holds dear.
About the Author
---
C. J. Box is the #1 New York Times bestselling author of the Joe Pickett series, five stand-alone novels, and the story collection Shots Fired. He has won the Edgar, Anthony, Macavity, Gumshoe, and two Barry awards, as well as the French Prix Calibre .38 and a French Elle magazine literary award. His books have been translated into twenty-seven languages. He and his wife Laurie split their time between their home and ranch in Wyoming.
Praise For…
---
Praise for Open Season

"Meet Joe Pickett: He's going to be a mystery star."—Publishers Weekly (starred review)

"C. J. Box is a great storyteller."—Tony Hillerman

"A great crime novel."—Lee Child

"A muscular first novel…Box writes as straight as his characters shoot, and he has a stand-up hero to shoulder his passionate concerns about endangered lives and liberties."—The New York Times Book Review

"Intriguing, with a forest setting so treacherous it makes Nevada Barr's locales look positively comfy, with a motive for murder that is as unique as any in modern fiction. Pickett is a refreshingly human and befuddled hero...But it's Box's offbeat way of telling the story that puts it on the best of the year track."—Los Angeles Times

"C.J. Box might represent an endangered species himself: a first novelist who is getting his due…Box's book has it all—suspenseful plot, magnificent scenery and a flawed male hero who is tough but truly connected to his family…profoundly memorable."—Boston Herald

"Every few years a first novel appears that immediately sets itself apart from the crowd. As readers, we feel that special shock of recognition that announces, 'Here is something special.' Taking dead aim with his first sentence…Box remains square on target throughout this nearly word-perfect debut...Best of all, the soft-spoken Joe Pickett is a Gary Cooper for our time."—Booklist (starred review)

"A high-country Presumed Innocent that moves like greased lightning."—Kirkus Reviews (starred review)

"Pickett [is] an engaging change from the fast-driving, trigger-happy male heroes of so many contemporary crime novels."—Washington Post Book World