Search for (almost) any book
Shopping cart
There are no products in your shopping cart.
Items in the cart

0

Items

$0.00
Recitatif: A Story (Hardcover)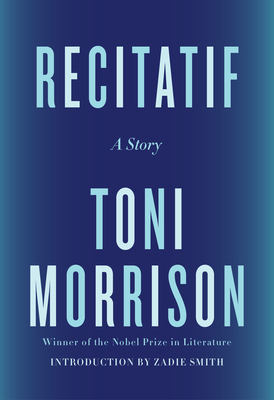 $16.00

Usually Ships in 3-7 Days
Description
---
NEW YORK TIMES BEST SELLER • A beautiful, arresting story about race and the relationships that shape us through life by the legendary Nobel Prize winner—for the first time in a beautifully produced stand-alone edition, with an introduction by Zadie Smith

"A puzzle of a story, then—a game.... When [Morrison] called Recitatif an 'experiment' she meant it. The subject of the experiment is the reader." —Zadie Smith, award-winning, best-selling author of White Teeth

In this 1983 short story—the only short story Morrison ever wrote—we meet Twyla and Roberta, who have known each other since they were eight years old and spent four months together as roommates in St. Bonaventure shelter. Inseparable then, they lose touch as they grow older, only later to find each other again at a diner, a grocery store, and again at a protest. Seemingly at opposite ends of every problem, and at each other's throats each time they meet, the two women still cannot deny the deep bond their shared experience has forged between them.

Another work of genius by this masterly writer, Recitatif keeps Twyla's and Roberta's races ambiguous throughout the story. Morrison herself described Recitatif, a story which will keep readers thinking and discussing for years to come, as "an experiment in the removal of all racial codes from a narrative about two characters of different races for whom racial identity is crucial." We know that one is white and one is Black, but which is which? And who is right about the race of the woman the girls tormented at the orphanage?

A remarkable look into what keeps us together and what keeps us apart, and how perceptions are made tangible by reality, Recitatif is a gift to readers in these changing times.
About the Author
---
TONI MORRISON is the author of eleven novels and three essay collections. She received the National Book Critics Circle Award, the Pulitzer Prize, and in 1993 the Nobel Prize in Literature. She died in 2019.

Zadie Smith is the author of the novels White Teeth, The Autograph Man, On Beauty, NW and Swing Time, as well as a novella, The Embassy of Cambodia, and two collections of essays, Changing My Mind and Feel Free. She is also the editor of The Book of Other People. Zadie was elected a fellow of the Royal Society of Literature in 2002, and was listed as one of Granta's 20 Best Young British Novelists in 2003 and again in 2013. White Teeth won multiple literary awards including the James Tait Black Memorial Prize, the Whitbread First Novel Award and the Guardian First Book Award. On Beauty was shortlisted for the Man Booker Prize and won the Orange Prize for Fiction, and NW was shortlisted for the Baileys Women's Prize for Fiction. Zadie Smith is currently a tenured professor of fiction at New York University and a Member of the American Academy of Arts and Letters.
Praise For…
---
An NPR Best Book of the Year

"'Recitatif' . . .  is ambitious, pointed, and surprisingly playful when it comes to race. Morrison described it as 'an experiment in the removal of all racial codes from a narrative about two characters of different races for whom racial identity is crucial'. . . . So shrewd and economical is Morrison's storytelling, so tightly controlled is her experiment. 'Recitatif' is brilliant and worthy of space in your brain and bookshelf." 
—The Philadelphia Inquirer
 
"Nobel laureate Morrison's only short story, originally published in 1983 and now as a slender, elegant volume enhanced by Smith's insightful introduction, is a knockout. . . . In her captivating story, Morrison ingeniously leads readers to challenge racial stereotypes and consider nuanced power dynamics with questions that linger beyond the last page." 
—The National Book Review
 
"When I return to 'Recitatif,' it is with a renewed understanding that, along with a handful of other African Americans, Morrison was among the first to depict Black culture while also considering politics, while also considering United States history, while also considering white supremacy, while also considering economic class, while also considering gender, while also considering intergenerational trauma. As the kids might say, Toni Morrison did that."
—Honorée Fanonne Jeffers, New York Times Book Review

"Strikingly relevant. . . . We can never tell definitively which woman is White and which is Black. It shouldn't matter, but it does. The story constantly tempts us to test our racial attitudes about clothing, food, hair, even money. . . . This is the perfect text for a country still vigorously debating the relevance of race. But the singular quality of this story makes it worthwhile, especially because the book contains a long, thoughtful introduction by Zadie Smith, who says, rightly, that 'Recitatif' should sit alongside 'Bartleby, the Scrivener' and 'The Lottery' 'as a perfect—and perfectly American—tale'. . . . Smith's illuminating discussion . . . provides a close reading and examines the way racial categories function in our allegedly post-racial culture." 
—Ron Charles, Washington Post

"Page for page, it is as powerful and audacious an exploration of racial bias in America as her 11 novels. . . . profoundly thought-provoking. Even four decades after this story was written, readers are ineluctably drawn into a quandary about which character is white and which is Black. But here's the brilliance of Morrison's experiment: Each conjecture exposes the reader's own racial preconceptions. . . . 'Recitatif' is a shrewd feat of composition and social commentary. . . . Its short length would make it an ideal, accessible selection for book groups and community-wide reading programs, sure to spark self-scrutiny and discussion. Both timely and timeless, it's a story I can't recommend highly enough." 
—Heller McAlpin, Christian Science Monitor
 
"Toni Morrison spoke often about the incoherence of race. . . . While maintaining that there is no such thing as race, the acclaimed writer and Nobel laureate explored extensively through her work how living in a society structured around this artificial category shaped the lives of her characters. Those very ideas are at the heart of 'Recitatif'. The story is a puzzle of sorts, as Smith writes in the introduction, because Morrison never explicitly reveals the racial identity of either character. . . . Morrison challenges the reader's impulse to neatly categorize people and forces them to consider other markers: disability, gender, class. . . . Though 'Recitatif' was written decades earlier, the themes it deals with and the questions it poses, remain relevant as ever." 
—CNN.com
 
"To much of the world the late Toni Morrison was a novelist, celebrated for such classics as Beloved, Song of Solomon and The Bluest Eye. But the Nobel laureate did not confine herself to one kind of writing. . . . In her introduction, Smith likens 'Recitatif' to a puzzle or a game, while warning that 'Toni Morrison does not play.' Throughout the story, Morrison will refer to everything from hair length to social status as if to challenge the reader's own racial assumptions." 
—AP News
 
"Morrison's only published short story is reissued here with an illuminating foreword by Zadie Smith. . . . Like much of Morrison's work, this story is a deceptively simple and intricate indictment of the ludicrousness of racism." 
—Buzzfeed, "26 Books to Get Excited About This Year"
 
"Morrison's sharp-eyed treatment of race, racism, and racial hierarchies remains relevant, digging deep into the marrow of society's maladies." 
—Literary Hub, "Most Anticipated Books of 2022"
 
"['Recitatif'] stands resoundingly on its own. . . . Endlessly ponderable. In her substantial and enlightening introduction, Zadie Smith quotes Morrison, whom she describes as 'the great master of American complexity,' explaining that this tale is 'an experiment in the removal of all racial codes.' This is a profound and foundation-rocking conundrum of a story." 
—Booklist
 
"[A] stunning work. . . . An illuminating introduction. . . .[Morrison's] experiment pays off brilliantly, forcing the reader to consider racial stereotypes while also providing an indelible story. The gravitas and unparalleled skill found in Morrison's best-known work is on full display in this compact powerhouse."
—Publishers Weekly (starred review)
 
"A thought experiment, illuminated here by Smith's close analysis of equal length. . . . On every page, Morrison teases said reader with details about the girls, their mothers, and their lots in life that seem like they could help solve the puzzle of which is Black and which is White, yet they never conclusively do so. And as the story is designed to show and Smith will make sure you see, that is not the most important thing. . . . A uniquely interesting and enlightening reading experience." 
—Kirkus Reviews (starred review)