Search for (almost) any book
Shopping cart
There are no products in your shopping cart.
Items in the cart

0

Items

$0.00
Theophrastus' Characters: An Ancient Take on Bad Behavior (Hardcover)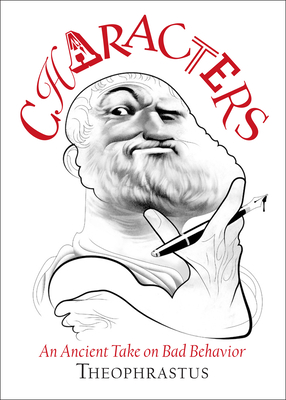 $24.95

Usually Ships in 3-7 Days
Description
---
"These Characters are people we know--they're our quirky neighbors, our creepy bosses, our blind dates from hell. Sharp-tongued Theophrastus, made sharper than ever in this fresh new edition, reminds us that Athenian weirdness is as ageless as Athenian wisdom." -Mary Beard, Professor of Classics at Cambridge University, presenter of BBC's Civilisations
The more things change, the more they stay the same: Theophrastus' Characters, a classical Greek text newly translated for a modern audience, is a joyful festival of fault-finding. The book outlines 30 characters, each crystallizing a human flaw all readers will immediately recognize, and is a humorous survey of failings, follies, and bad behavior taken straight off the streets of Athens and brought into our everyday fraught and divisive social and political scene. Brilliantly illustrated by acclaimed artist Andre Carrilho, this is an irresistible treasure of a book.
WHEN ARISTOTLE WROTE that "comedy is about people worse than ourselves," he may have been recalling a hard-edged gem of a treatise written by his favorite student, Theophrastus. Theophrastus' Characters is a joyous festival of fault-finding: a collection of thirty closely observed personality portraits, defining the full spectrum of human flaws, failings, and follies. With piquant details of speech and behavior taken straight off the streets of ancient Athens, Theophrastus gives us sketches of the mean, vile, and annoying that are comically distorted yet vividly real.
Enlivened by Pamela Mensch's fresh translation--the first widely available English version in over half a century--Theophrastus' Characters transports us to a world populated by figures of flesh and blood, not bronze and marble. The wry, inventive drawings help envoke the cankered wit of this most modern of ancient texts. Lightly but helpfully annotated by classicist James Romm, these thirty thumbnail portraits are startlingly recognizable twenty-three centuries later. The characters of Theophrastus are archetypes of human nature that remain insightful, caustic, and relevant.