Search for (almost) any book
Shopping cart
There are no products in your shopping cart.
Items in the cart

0

Items

$0.00
Speedboat (NYRB Classics) (Paperback)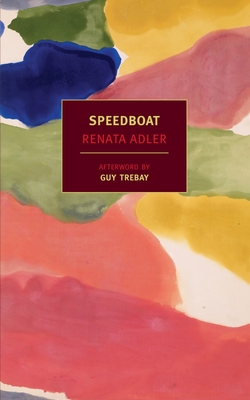 $14.95
Sorry - title not available at this time.
Description
---
Winner of the Hemingway Foundation/PEN Award, this is one of the defining books of the 1970s, an experimental novel about a young journalist trying to navigate life in America. 

When Speedboat burst on the scene in the late '70s it was like nothing readers had encountered before. It seemed to disregard the rules of the novel, but it wore its unconventionality with ease. Reading it was a pleasure of a new, unexpected kind. Above all, there was its voice, ambivalent, curious, wry, the voice of Jen Fain, a journalist negotiating the fraught landscape of contemporary urban America. Party guests, taxi drivers, brownstone dwellers, professors, journalists, presidents, and debutantes fill these dispatches from the world as Jen finds it.
       
A touchstone over the years for writers as different as David Foster Wallace and Elizabeth Hardwick, Speedboat returns to enthrall a new generation of readers.
About the Author
---
Renata Adler was born in Milan and raised in Connecticut. She received a B.A. from Bryn Mawr, an M.A. from Harvard, a D.d'E.S. from the Sorbonne, a J.D. from Yale Law School, and an LL.D. (honorary) from Georgetown. Adler became a staff writer at The New Yorker in 1963 and, except for a year as the chief film critic of The New York Times, remained at The New Yorker for the next four decades. Her books include A Year in the Dark (1969); Toward a Radical Middle (1970); Reckless Disregard: Westmoreland v. CBS et al., Sharon v. Time (1986); Canaries in the Mineshaft (2001); Gone: The Last Days of The New Yorker (1999); Irreparable Harm: The U.S. Supreme Court and The Decision That Made George W. Bush President (2004); and the novels Speedboat (1976; winner of the Ernest Hemingway Award for Best First Novel) and Pitch Dark (1983).

Guy Trebay reports on culture for The New York Times. He was previously a columnist for The Village Voice and has written for The New Yorker, Condé Nast Traveler, Travel and Leisure, Harper's, Esquire, Grand Street, and other major publications. His work, twice honored with the Meyer Berger Award, presented by the Columbia University School of Journalism, has received numerous other awards, been widely anthologized, and was collected in In The Place to Be: Guy
Trebay's New York.
Praise For…
---
"[Speedboat] feels like a book that has somehow always existed, just as much as one that maybe never has. The feel of a total accident, and yet one that could only have happened in exactly the way it did. . . . The sentences are thrilling to the point of overload—delirious, worldly, probing, wry. And yet the book's most arresting feat is its ability to inhabit a moment so clearly, so lucidly, that nothing outside of its momentary aperture seems of any importance." —David Byron Queen, The Review of unContemporary Fiction

"Ms. Adler's writing has turned out to be prescient and quietly influential, and her debut novel cast a long shadow on what I consider to be the strongest works of fiction published this year. Speedboat does not prescribe to any novelistic convention—namely, plot (linear or not, it does not have one to speak of)—and yet it distills the novel to its most basic necessities. It is a series of disjointed paragraphs, each a kind of novel in itself, in which every sentence has the urgency of a mortal wound." —Michael Miller, The New York Observer

"…Renata Adler's ahead-of-its-time novel Speedboat has gone from cult favorite to undisputed classic." —The Fiction Advocate

"This novel is a semi-plotless investigation of contemporary life, both actual and intellectual, in which every sentence gleams and winks and lifts boulders. It is vital and dazzling and will never, never go out of style." —Flavorwire

"Written before the ubiquity of writing workshops and the polished sameness that hovers over most of the polite novels published these days, these two books are triumphs now. They are evidence of what happens when messy life meets clean white page in exquisite prose and should be lingered over, not digested in gulps just to get to THE END." —A.V. Club

"Told by Jen Fain, a journalist, Speedboat is a fragmentary and frequently hilarious novel about what it was to be an urban American in the 1970s. Here we have a narrator whose "I" looks out, not in. Fain describes her friends and work so keenly that at times she is almost effaced from her own narrative. In the space opened up by this near absence, Adler achieves a prose that, despite the odd bum note, sounds disaffected and despondent and charismatic all at once. 'There doesn't seem to be a spirit of the times,' says Fain. But in Adler we sense the very crystallisation of one." —The Irish Times

"She is one of the most brilliant—that is, vivid, intense, astute, and penetrating—essayists in contemporary letters, and most contrarian: much of what you think she will passionately undo. And she is a novelist whose voice, even decades after her books were written, seems new and original, and, if you are a writer, one you wish were your own." —Michael Wolff, The Guardian

"I think Speedboat will find a new generation of dazzled readers." —Katie Roiphe, Slate

"Speedboat is as vital a document of the last half of the American century as Slouching Towards Bethlehem and The Death and Life of Great American Cities. Right down to its final, just-right sentence, it's—well, it will literally knock your socks off." —Michael Robbins, Chicago Tribune

"Speedboat captivates by its jagged and frenetic changes of pitch and tone and voice. Adler confides, reflects, tells a story, aphorizes, undercuts the aphorism, then undercuts that. Ideas, experiences, and emotions are inseparable. I don't know what she'll say next. She tantalizes by being simultaneously daring and elusive." —David Shields, Reality Hunger

"Nobody writes better prose than Renata Adler." —John Leonard, Vanity Fair

"A brilliant series of glimpses into the special oddities and new terrors of contemporary life—abrupt, painful, and altogether splendid." —Donald Barthelme

"When Speedboat burst on the scene in the late '70s it was like nothing readers had encountered before. It seemed to disregard the rules of the novel, but it wore its unconventionality with ease. Reading it was a pleasure of a new, unexpected kind. Above all, there was its voice, ambivalent, curious, wry…. A touchstone over the years for writers." —Bookforum for The Oyster Review

"'Tell all the truth but tell it slant—' So says Emily Dickinson, and part of the joy to be found in Adler's short, dense and intellectually vast text is the author's investigation into those various slants, including how language changes your mind, and how your mind changes language. . . . [Speedboat is] a book filled with stories that stay and then slip into the next story, like steam running down glass." —Hilton Als, Granta