Search for (almost) any book
Shopping cart
There are no products in your shopping cart.
Items in the cart

0

Items

$0.00
The Anomaly: A Novel (Paperback)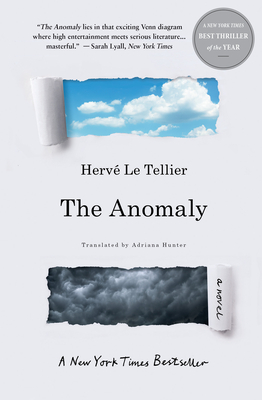 $16.99

Usually Ships in 3-7 Days
December 2021 Indie Next List
---
"A mind-blowing examination of who we think we are, what we think we know, and how we might be completely wrong. The dualities, the possibilities, The Anomaly!"
— Kayleen Rohrer, InkLink Books, East Troy, WI
Winter 2022 Reading Group Indie Next List
---
"Buckle your seat belts! Especially on Flight 006 from Paris to NYC in June 2021. Prepare not to sleep until you finish this everything-jammed-into-one novel. Sci-fi? Fantasy? Heartfelt character interaction? Philosophy? Check."
— Valerie Koehler, Blue Willow Bookshop, Houston, TX
Description
---
A New York Times bestseller and a "Best Thriller of the Year"

Winner of the Goncourt Prize and now an international phenomenon, this dizzying, whip-smart novel blends crime, fantasy, sci-fi, and thriller as it plumbs the mysteries surrounding a Paris-New York flight.

Who would we be if we had made different choices? Told that secret, left that relationship, written that book? We all wonder—the passengers of Air France 006 will find out.

In their own way, they were all living double lives when they boarded the plane:
     Blake, a respectable family man who works as a contract killer.
     Slimboy, a Nigerian pop star who uses his womanizing image to hide that he's gay.
     Joanna, a Black American lawyer pressured to play the good old boys' game to succeed with her Big Pharma client.
     Victor Miesel, a critically acclaimed yet largely obscure writer suddenly on the precipice of global fame.
    About to start their descent to JFK, they hit a shockingly violent patch of turbulence, emerging on the other side to a reality both perfectly familiar and utterly strange. As it charts the fallout of this logic-defying event, The Anomaly takes us on a journey from Lagos and Mumbai to the White House and a top-secret hangar.
    In Hervé Le Tellier's most ambitious work yet, high literature follows the lead of a bingeable Netflix series, drawing on the best of genre fiction from "chick lit" to mystery, while also playfully critiquing their hallmarks. An ingenious, timely variation on the doppelgänger theme, it taps into the parts of ourselves that elude us most.
About the Author
---
Hervé Le Tellier is a writer, journalist, mathematician, food critic, and teacher. He has been a member of the Oulipo group since 1992 and one of the "papous" of the famous France Culture radio show. He has published numerous books of stories, essays, memoir, and novels, including the Goncourt Prize–winning The Anomaly, which has sold more than one million copies worldwide, All Happy Families, Electrico W, and Enough About Love.

Adriana Hunter studied French and Drama at the University of London. She has translated more than ninety books, including Véronique Olmi's Bakhita and Hervé Le Tellier's Eléctrico W, winner of the French-American Foundation's 2013 Translation Prize in Fiction. She lives in Kent, England.
Praise For…
---
"Enthralling…a profoundly affecting examination of free will, fate, reality, and the meaning of existence, cloaked in a high-concept plot that could have come from The Twilight Zone or Black Mirror…exists in that most excellent of Venn diagrams, where high entertainment meets serious literature." —New York Times, Best Thrillers of the Year
 
"With its elegant mix of science fiction and metaphysical mystery, Le Tellier's thriller is…a flight of imagination you'll be rolling over in your mind long after deplaning." —Washington Post

"[A] literary phenomenon…[The Anomaly] swerves between various genres—science fiction, a thriller, love stories, an introspective work—without being confined by any of them." —New York Times

"Manifest meets Lost in The Anomaly…[a] puzzle box of a sci-fi thriller." —PopSugar, Best New Mystery and Thriller Books of the Month

"Humorous, captivating, thoughtful—existentialism has never been so thrilling." —Kirkus Reviews (starred review)

"A striking thought experiment…Le Tellier delivers some sharp social comedy here…But behind the comedy are more profound psychological questions about individual freedom…[The Anomaly] is priceless." —Times Literary Supplement
 
"An extraordinary mix of existential thriller and speculative fiction…This thought-provoking literary work deserves a wide readership." —Publishers Weekly (starred review)

"Buckle your seat belts, as Hervé Le Tellier takes you on an extraordinary ride. You won't want to put this book down until the very last page!" —Leila Slimani, #1 New York Times bestselling author of The Perfect Nanny

"A witty, erudite novel, teeming and minutely detailed, a treat throughout, with—at its center—that head-spinning conceit that will leave you deep in thought for a long time after reading the final page." —Nicolas Mathieu, Goncourt Prize–winning author of And Their Children After Them

"A uniquely, gloriously, provocatively French contribution to the sci-fi thriller genre—it will keep you guessing, get your heart pounding, and make you feel and wonder and—above all—think." —Sam J. Miller, Nebula Award-winning author of Blackfish City

"In The Anomaly, Hervé Le Tellier has delivered a volatile and compelling thriller that has you hurtling toward the mystery at the heart of the novel from page one. The Anomaly is a gripping and moving blend of Blake Crouch's Dark Matter, the television show Lost, with a bit of The Philadelphia Experiment thrown in for good measure. I couldn't put it down." —Terry Miles, author of Rabbits

"The Anomaly is one and ten novels at once, brilliantly connecting every mystery of intimacy with the great mystery of humanity." —Michel Bussi, author of After the Crash

"The Anomaly is a brilliant balancing act of a novel, a fantastic rush and ride that works on myriad levels, at various depths, and in a multitude of styles. It's a precise and erudite literary treat, a comedic sociopolitical-religious skewering of these contemporary times, a philosophical-scientific-mathematical dive into the puzzles of possibility, space, and time, and an ingenious thought experiment that lends itself easily to ad infinitum analysis and dissection. It's also entirely grounded in human nature. Le Tellier's pointillistic characters are, like all of us, buffeted by desires, seeking love, striving, aging, making good and bad decisions, choosing the right or wrong paths, believing they know and understand themselves, utterly trusting in free will. Highly intelligent, ironic without cheap cynicism, The Anomaly is an immensely fun novel, an immersive experience that leaves the reader analyzing everything anew." —Cherise Wolas, author of The Resurrection of Joan Ashby and The Family Tabor

"An extraordinary, fast-paced, disturbing novel, perfect for these extraordinary, fast-paced, disturbing times. Think Steven Spielberg meets Umberto Eco with a side order of black humor, generously sprinkled with genuine emotion." —Sam Taylor, author of The Island at the End of the World
 
"It's a phenomenal read. I loved how it tied together. So clever yet also so gripping." —Harriet Tyce, bestselling author of Blood Orange

"Exhilarating, thought-provoking, funny, and devastating. The Anomaly is unlike anything else I've read this year." —Laure Van Rensburg, author of Nobody But Us

"I was completely blown away by this genre-defying masterpiece. Part thriller, part philosophical rumination on what makes us human, and with a dash of theoretical physics; this is an absolute must-read." —Sarah Bonner, author of Her Perfect Twin

"Wow. What an exciting, original blend of theory and heart. It's astonishing. I can't describe it, except to say: read it, and prepare for a whole new perspective on your own existence—and plane travel." —Janice Hallett, bestselling author of The Appeal

"Fantastic…The Anomaly wears its name well: it's rare in France that a work combines the best of American TV series with an impeccable mastery of the French psychological novel." —Elle (France)
 
"Excellent…at once zeitgeisty, intelligent, and entertaining." —Charlie Hebdo

"An exquisite, insane surprise. Quite simply astounding." —Le Journal du Dimanche
 
"An adventure, a page-turner, a bestseller, but also an experimental, highly literary work." —Le Figaro Magazine