Search for (almost) any book
Shopping cart
There are no products in your shopping cart.
Items in the cart

0

Items

$0.00
The Storied Life of A. J. Fikry (movie tie-in): A Novel (Paperback)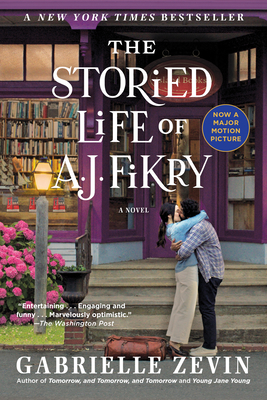 $16.99

Usually Ships in 3-7 Days
Description
---
A NEW YORK TIMES BESTSELLER BY THE AUTHOR OF TOMORROW, AND TOMORROW, AND TOMORROW

NOW A MAJOR MOTION PICTURE STARRING LUCY HALE & KUNNAL NAYAR

"A fun, page-turning delight." —Minneapolis Star-Tribune

"Funny, tender, and moving, The Storied Life of A. J. Fikry reminds us all exactly why we read and why we love." —Library Journal (starred review)

A. J. Fikry's life is not at all what he expected it to be. He lives alone, his bookstore is experiencing the worst sales in its history, and now his prized possession, a rare collection of Poe poems, has been stolen. But when a mysterious package appears at the bookstore, its unexpected arrival gives Fikry the chance to make his life over—and see everything anew.   

"This novel has humor, romance, a touch of suspense, but most of all love--love of books and bookish people and, really, all of humanity in its imperfect glory." —Eowyn Ivey, author of The Snow Child

 "Marvelously optimistic about the future of books and bookstores and the people who love both."—The Washington Post

"You won't want it to end." —Family Circle

"A natural for book groups." —Richmond Times-Dispatch

"A reader's paradise of the first order." —The Buffalo News

"Captures the joy of connecting people and books . . . Irresistible." —Booklist

"A wonderful, moving, endearing story of redemption and transformation that will sing in your heart for a very, very long time." —Garth Stein, author of The Art of Racing in the Rain

"Readers who delighted in The Guernsey Literary and Potato Peel Pie Society,  The Unlikely Pilgrimage of Harold Fry, and Letters from Skye will be equally  captivated by this novel." —Library Journal, starred review
About the Author
---
Gabrielle Zevin is a New York Times bestselling author whose books have been translated into more than thirty languages. Her eighth novel, The Storied Life of A. J. Fikry, spent more than four months on the New York Times Bestseller list, reached #1 on the National Indie Bestseller list, and has been a bestseller all around the world. The recently published Tomorrow, and Tomorrow, and Tomorrow, is also a NYT bestseller. She has also written books for children and young adults, including the award-winning Elsewhere.
Praise For…
---
"This novel has humor, romance, a touch of suspense, but most of all love--love of books and bookish people and, really, all of humanity in its imperfect glory." —Eowyn Ivey, author of The Snow Child

"Marvelously optimistic about the future of books and bookstores and the people who love both." —The Washington Post

"You won't want it to end." —Family Circle

"A natural for book groups." —Richmond Times-Dispatch

"A reader's paradise of the first order." —The Buffalo News

"A fun, page-turning delight." —Minneapolis Star Tribune

"Captures the joy of connecting people and books . . . Irresistible." —Booklist

"A wonderful, moving, endearing story of redemption and transformation that will sing in your heart for a very, very long time." —Garth Stein, author of The Art of Racing in the Rain

"Readers who delighted in The Guernsey Literary and Potato Peel Pie Society,  The Unlikely Pilgrimage of Harold Fry, and Letters from Skye will be equally  captivated by this novel." —*Library Journal, starred review