Search for (almost) any book
Shopping cart
There are no products in your shopping cart.
Items in the cart

0

Items

$0.00
50 Things about Us: What We Really Need to Know about Britain (Paperback)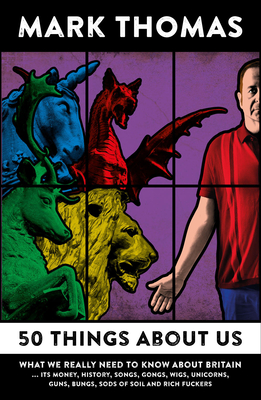 $16.95

Usually Ships in 3-7 Days
Description
---
In 50 Things About Us, Mark Thomas combines his trademark mix of storytelling, stand-up, mischief and really, really well-researched material to examine how we have come to inhabit this divided wasteland that some of us call the United Kingdom. Based on his latest show, 50 Things About Us, Mark picks through the myths, historical facts and current figures of our national identities to ask: who do we think we are?
About the Author
---
Mark Thomas is one of the UK's most effective and best-known political performers. He has won awards for his stage and human rights work, ranging from the Amnesty International Freedom of Expression Award to a Sony Award for Radio Comedy AND was one-time Guinness World Record holder for the most demonstrations in one day. His work has changed the law, kiboshed politicians' careers and has been performed across the world. This is his seventh book. www.markthomasinfo.co.uk