Search for (almost) any book
Shopping cart
There are no products in your shopping cart.
Items in the cart

0

Items

$0.00
Infinite Country: A Novel (Hardcover)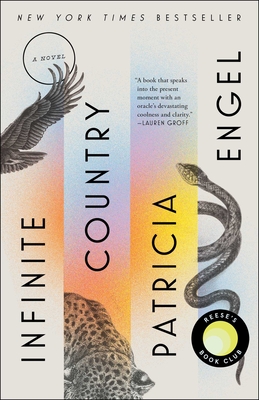 $25.00

Usually Ships in 3-7 Days
March 2021 Indie Next List
---
"Patricia Engel's new book is a true gem, a family story in which each voice is equally interesting and dynamic as well as a great examination on the brutish nature of the U.S. government and citizens toward people traveling stateside to start a new life. Your heart breaks and mends and breaks all over again for this family. In less than 200 pages, Engel works magic."
— James Harrod, Malaprop's Bookstore/Cafe, Asheville, NC
Winter 2022 Reading Group Indie Next List
---
"Gorgeous. A powerful snapshot of one family's immigration experience and the cultural division, adapted understanding of home, and relearned experience of one another that it brings."
— Becca Sloan, Novel., Memphis, TN
Description
---
A REESE'S BOOK CLUB PICK AND INSTANT NEW YORK TIMES BESTSELLER

WINNER OF THE 2021 NEW AMERICAN VOICES AWARD, LONGLISTED FOR THE 2022 ANDREW CARNEGIE MEDAL, A 2022 DAYTON LITERARY PEACE PRIZE FINALIST, AND A NATIONAL ENDOWMENT OF THE ARTS "BIG READS" SELECTION

"A knockout of a novel…we predict [Infinite Country] will be viewed as one of 2021's best." —O, The Oprah Magazine

Named a Most Anticipated Book of 2021 from Esquire, O, The Oprah Magazine, Elle, GMA, New York Post, Ms. Magazine, The Millions, Electric Literature, LitHub, AARP, Refinery29, BuzzFeed, Autostraddle, She Reads, Alma, and more.

I often wonder if we are living the wrong life in the wrong country.

Talia is being held at a correctional facility for adolescent girls in the forested mountains of Colombia after committing an impulsive act of violence that may or may not have been warranted. She urgently needs to get out and get back home to Bogotá, where her father and a plane ticket to the United States are waiting for her. If she misses her flight, she might also miss her chance to finally be reunited with her family in the north.

How this family came to occupy two different countries, two different worlds, comes into focus like twists of a kaleidoscope. We see Talia's parents, Mauro and Elena, fall in love in a market stall as teenagers against a backdrop of civil war and social unrest. We see them leave Bogotá with their firstborn, Karina, in pursuit of safety and opportunity in the United States on a temporary visa, and we see the births of two more children, Nando and Talia, on American soil. We witness the decisions and indecisions that lead to Mauro's deportation and the family's splintering—the costs they've all been living with ever since.

Award-winning, internationally acclaimed author Patricia Engel, herself a dual citizen and the daughter of Colombian immigrants, gives voice to all five family members as they navigate the particulars of their respective circumstances. And all the while, the metronome ticks: Will Talia make it to Bogotá in time? And if she does, can she bring herself to trade the solid facts of her father and life in Colombia for the distant vision of her mother and siblings in America?

Rich with Bogotá urban life, steeped in Andean myth, and tense with the daily reality of the undocumented in America, Infinite Country is the story of two countries and one mixed-status family—for whom every triumph is stitched with regret, and every dream pursued bears the weight of a dream deferred.
About the Author
---
Patricia Engel is the author of Infinite Country, a New York Times bestseller and Reese's Book Club selection; The Veins of the Ocean, winner of the Dayton Literary Peace Prize; It's Not Love, It's Just Paris, winner of the International Latino Book Award; and Vida, a finalist for the Pen/Hemingway and Young Lions Fiction Awards, New York Times Notable Book, and winner of Colombia's national book award, the Premio Biblioteca de Narrativa Colombiana. She is a recipient of fellowships from the Guggenheim Foundation and the National Endowment for the Arts. Her stories appear in The Best American Short Stories, The Best American Mystery Stories, The O. Henry Prize Stories, and elsewhere. Born to Colombian parents, and herself a dual citizen, Patricia is an associate professor of creative writing at the University of Miami.
Praise For…
---
"An exceptionally powerful and illuminating story about a Colombian family torn apart by war and migration." —Reese Witherspoon

"Engel movingly captures the shadow lives of undocumented migrants... a profound, beautiful novel." —People Magazine

"[Engel is] a gifted storyteller whose writing shines even in the darkest corners." —The Washington Post

"The prose is serpentine and exciting... [with] intimate and meticulously rendered descriptions of Andean landscapes and mythology, of Colombia's long history of violence... a compulsively readable novel." —New York Times Book Review

"Patricia Engel is a wonder; her novels are marvels of exquisite control and profound and delicately evoked feeling. Infinite Country knocked me out with its elegant and lucid deconstruction of yearning, family, belonging, and sacrifice. This is a book that speaks into the present moment with an oracle's devastating coolness and clarity." —Lauren Groff, author of Florida and Fates and Furies

"A diamond-sharp novel... With stunning sentences, vivid language, and a pace that will leave you breathless, Infinite Country is steeped in myth and rich in both depth and beauty. There's a not a single word misplaced in this book. —The Today Show

"Engel's sweeping novel gives voice to three generations of a Colombian family torn apart by man-made borders... Gorgeously woven through with Andean myths and the bitter realities of undocumented life, Infinite Country tells a breathtaking story of the unimaginable prices paid for a better life." —Esquire

"At once a sweeping love story and tragic drama, Infinite Country… promises to deliver what American Dirt could not: an authentic vision of what the American Dream looks like in a nationalistic country." —Elle

"A gorgeous, moving novel." —New York Post

"Engel's pacing is breathless—she covers three generations in under 200 pages—but just as frequently gives way to heart- and time-stopping moments. Infinite Country is poised to be one of the most stirring page-turners of the year." —A.V. Club

"Clear, moving, and perfectly calibrated, Infinite Country follows the members of one mixed-immigration status family as they navigate dreams, distance, and the bonds of love and memory. Patricia Engel is a stunning writer with astonishing talents." —Lisa Ko, author of The Leavers

"I've admired Engel's writing a long time, and her new book deepened that admiration. An exquisitely told story of family, war, and migration, this is a novel our increasingly divided country wants and needs to read." —R.O. Kwon, Electric Literature "Books by Women of Color in 2021"

"Engel's vital story of a divided Colombian family is a book we need to read... The rare immigrant chronicle that is as long on hope as it is on heartbreak." —*starred* Kirkus Reviews

"Engel's gaze is intensely intimate but never voyeuristic, and her prose, while sparse and digestible, is full of poignant observations... Perfect for readers of Isabel Allende and Valeria Luiselli, this book offers readers from all walks of life a searingly timely perspective on the challenges faced by those in pursuit of a dream." —Book Reporter

"A memorable line—"It was her idea to tie up the nun."— launches the narrative with the force of a cannon as it switches back and forth between the present and the past... Told by a chorus of voices and perspectives, this is as much an all-American story as it is a global one." —*starred* Booklist

"An outstanding novel of migration and the Colombian diaspora... Engel's sharp, unflinching narrative teems with insight and dazzles with a confident, slyly sophisticated structure. This is an impressive achievement." —*starred* Publishers Weekly

"An intriguing, compact tale, rife with both real-life implications and spiritual significance… Engel does a marvelous job of rendering these characters as individuals, each with a unique story." —BookPage

"Exquisitely written and composed... Heartbreaking and profound, this is a must read." —Boston Magazine

"Crucial... Patricia Engel tells a now eerily recognizable story of a Colombian family's experiences with migration, mixed statuses and mercy." —Ms. Magazine

"Powerful and poignant, Infinite Country crystallizes the questions we are asking today about migration, family, and our vision of the future. Patricia Engel has written a memorable and brutally honest response to the simplistic notion of what constitutes the American Dream." —Maaza Mengiste, author of The Shadow King

"Infinite Country is both a timely and timeless novel. In beautiful prose, Patricia Engel brings to life the courage and complexity of the immigrant experience, illuminating the hardship of life between two countries and two languages, and the search for family and belonging." —Jennifer Clement, author of Gun Love

"Everything Patricia Engel writes is lit up from the inside with beauty and power. Her prose is gorgeous and her characters are always achingly alive. —Carolina de Robertis, author of Cantoras

"What a breathtaking novel this is, about family, forgiveness, and love while contending with the terrifying unknowns of being an immigrant in a merciless era. There is mercy, however, in every scene of Infinite Country—the kind of profound, understated mercy that manifests in exceptional works of fiction. Patricia Engel is a tremendous writer, and Infinite Country is her best novel yet." —Idra Novey, author of Those Who Knew

"A tender, beautifully written, and deeply transporting story springing with love and hope. The questions at the heart of Infinite Country are some of the most urgent of our time: Who is allowed in? How will I be known? What is home? Clever, strong, and born searching, Talia hooked me the second she decided to tie up that nun." —Dina Nayeri, author of The Ungrateful Refugee

"Patricia Engel has an elegant voice. But that finesse has a way of making the shocks and surprises in her fiction more stunning. Infinite Country is her most satisfying work. You won't be sorry. Well, you will be sorry when it ends." —Luis Alberto Urrea, author of House of Broken Angels and The Devil's Highway

"A stunning new story that follows a mixed-status Colombian family... This is an urgent look at the devastating effects that separation can wreck on one family." —She Reads, "Most Anticipated Latinx Books of 2021"

"This is Engel at her best...This is the kind of book that allows you to see and feel the whole issue, offering an intimate perspective of an experience that touches and impacts us all... Infinite Country has us feeling all the emotions!" —Angie Cruz, Undomesticated Mag's "Most Anticipated for 2021"

"This book broke me in the best way possible... At the heart of Infinite Country is the love of Elena and Mauro, of their family, and of their children trying to make their way... The ending will absolutely move you to tears." —Alma, "Favorite Books for Winter 2021"

"A poignant depiction of a family trying to survive in a system designed against them." —BuzzFeed

"A heartbreaking portrait of a family dealing with the realities of migration and separation." —Time, "Best Books of March 2021"

"Poignant and realistic... Engel's strength is in making readers gain a deeper understanding of the family histories behind recent headlines—as well as the country's past generations of immigrants." —NBC Latino

"[In] vibrant language... Engel brilliantly captures the life of a family split in half and living in two separate worlds... Stretched between two countries, Infinite Country is a moving, authentic story about a family in a new land chasing a complicated dream." —LatinxSpaces

"At only 200 pages, Infinite Country can be read in one sitting, but its effects on you will far outlast a vacation tan." —O Magazine, "Best Beach Reads of 2021"

"A literary masterpiece... Patricia Engel tells the urgent story of a mixed-immigration-status family as they navigate their lives together and apart." —goop

"Infinite Country vibrates with the fissures of a divided America and a divided family... in a narrative that feels both specific and universal." —Boca Magazine

"Brilliant" —Remezcla

"Timely, elegant." —Good Morning America

"[a] powerful and intimate account of life in the diaspora." —Refinery29, "Best New Books of 2021"

"Another gorgeous and devastating Pan-American story of exile, yearning, and loss." —Dan Sheehan, "Lit Hub's Most Anticipated Books of 2021"

"A moving novel." —AARP, 2021 Winter Preview

"To read this story is to become entrenched in the love, fears, and desperations of Talia, Elena, Mauro, and their family…No matter where you stand regarding immigration, Engel reminds us that behind the statistics, the papers, and the stamps, there are actual people and families who breathe, bleed, and fight to survive. —Amerie, Grammy-nominated singer and New York Times-bestselling author

"Lyrical... Weaving together the different experiences of each family member, Infinite Country offers a poignant account that blends both tragedy and victory." —The Glossary (UK)

"In distilled, propulsive prose…Engel depicts how the vicissitudes of the immigration system don't just separate members of a family physically; they also create an emotional rift… The American dream exerts a magnetic pull in [Infinite Country]." —America Magazine